Course Description
This course is 15 learning hours inclusive of 4 hours of live facilitated sessions. It is recommended that learners spend approximately 3 hours per week on this course, inclusive of the one-hour weekly live session.

There have been recent strides to support the idea that people with different types of brains can bring new opportunities and new talents to the workforce, not just new challenges. People with a mental health history, as well as people who suffer from learning disabilities, are becoming a valued part of a diverse workforce. However, throughout history people with a mental health record have been marginalized, often suffering under arbitrary or cruel care, or left to be homeless or on the wrong side of the law.
This course will teach you what you need to know about mental health from the patient's perspective as it pertains to the workplace and the psychiatric institution, and what you need to know about barriers for people with learning disabilities. This includes examining the workplace, the institution, the politics and political discourse, interactions with law enforcement, and the media's role in perpetuating stigma.
Be part of eye-opening dialogues where you will learn how to appreciate the differences neurodiversity and mental health history bring to workplaces and communities. You will learn from each other and, most importantly, how to gain the trust and respect of someone with a mental health history or a learning disability, especially in a workplace setting.
* the non-pathological range of variance in individual brain function and behavioural traits.
Course Outline
Module 1: The Workplace
Module 2: Sanism
Module 3: Institutionalization and the Law
Module 4: The Media
What You Will Learn
Basic sensitivity training when dealing with people of different types of brain in the workforce.

Appropriate terminology and discourse around mental health and learning disabilities.

The history of mental health and learning disabilities.

How to critically analyze depictions of mental health and learning disabilities in pop culture.

The politics and culture of disability activism and neurodiversity activism.
Microcredential
A microcredential is evidence of the mastery of a skill or competency that is desired by employers.
This microcredential reflects mastery of the following competencies: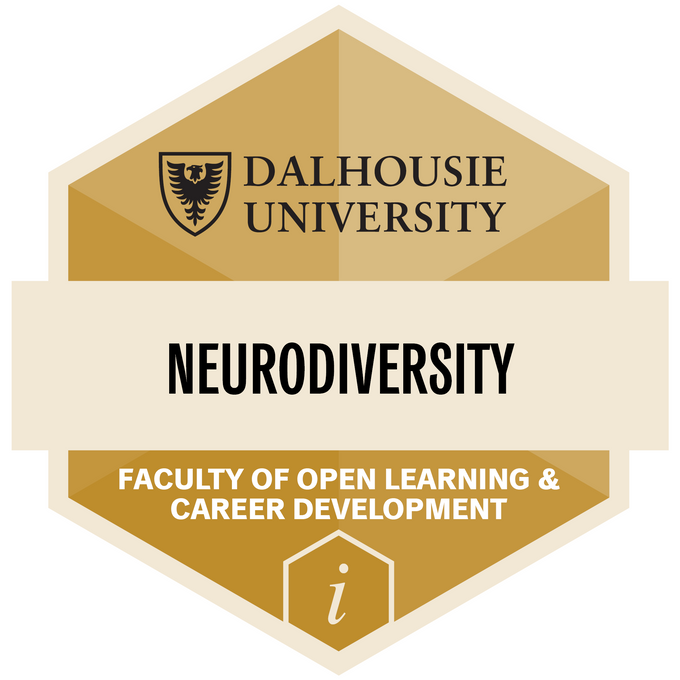 Sensitivity Training
Unconscious Bias
Workplace Accommodation
To earn the microcredential in this course, learners will need to successfully complete the competency-based assessment related to the microcredential content.
To learn more about microcredentials and how they can enhance your learning portfolio, watch this 30-second YouTube video (video opens in a new window).
Recommended For
Anyone in a working environment or community that includes neurodiversity and/or mental health issues would expand their academic or pragmatic understanding of workplace diversity. Participants in employment services, student services, educational, medical or law enforcement careers should consider this course a key learning opportunity for their day-to-day work. Anyone with a mental health history can learn about the activist communities that serve their interests. Finally, anyone with an interest in learning more about neurodiversity and mental health will benefit from this course.
Testimonials
I recommend Neurodiversity and Mental Health in the Workplace and Community as an introduction to the long-standing and unchallenged biases that exist around neuro-atypical persons in society. If you are someone like me who wants to build an inclusive and welcoming workplace, it is worthwhile to build a lexicon around examples of stereotyping and discrimination and to learn more about the ways in which we need to shift our language. Jay Heisler is an excellent guide for the journey and approaches facilitation with a learner's mindset. Sherry Carmont also attended the sessions and provided helpful support in the learning journey. Weekly course meetings invited participation and conversation from all in attendance and I felt very supported in my introduction to this field. Laura Dickson, Calgary, AB
I initially enrolled in this course to learn and develop workplace skills to support diversity and inclusion. In retrospect, this course and the content I have been exposed to has challenged my views, biases and provided a basis of introspection that will provide a catalyst for future course exploration and learning. Francis Harrison, Toronto, ON

I would recommend this course to anyone who wants to learn more about how we can expand our definition of diversity to include the Neurodiverse in society and in our workplaces. Jay is an accomplished presenter who is a very validating facilitator. I enjoyed learning more about all the facets of this important work and the discussions both in the synchronous presentation of the material and on the discussion board. K. Stewart, Halifax, NS
Applies Towards the Following Certificates
Enrol Now - Select a section to enrol in
Required fields are indicated by .