Course Description
This course involves 15 learner hours inclusive of 6 hours of synchronous sessions over eight weeks. Sessions will be recorded for those who have time conflicts.

The practice of mindfulness is a well-documented method for helping calm our nervous system and staying centered, especially in times of high stress, volatility, and uncertainty. This interactive online program is aimed at providing you with an opportunity to take a break from dealing with crises and ambiguity. Join us online, and you will learn sustainable techniques and practices to reduce your stress levels, refocus your attention, and increase your productivity in your professional, as well as your personal life. If you have tried some form of mindfulness practice before but have given up again because it was "too hard," consider this course - it's different. It has been listed on REFINERY29.COM as one of "The Coolest Virtual Courses You Can Take at Canada's Top Schools."
Course Outline
Week 1:
Overview and Definition of Mindfulness

Introduction into Mindfulness Meditation

Benefits of Developing a Mindfulness Practice
Week 2:
Developing Healthy Lifestyle Habits

Assessing Your Own Wellness Habits
Week 3:
The Principles and Practices of Mindful Leadership

Developing a Mindful Leadership Vision Statement
Week 4:
Strategies for Building Resilience

Developing Compassion for Self and Others
What You Will Learn
Participants will learn how to:
develop a sustainable mindfulness practice, including meditation;

stay calm and focused in high-stress situations;

develop healthy lifestyle habits;

improve their decision-making and problem-solving capabilities;

practice mindfulness leadership at work and in their personal lives; and

build their resilience and develop a greater sense of well-being and ease.
Microcredential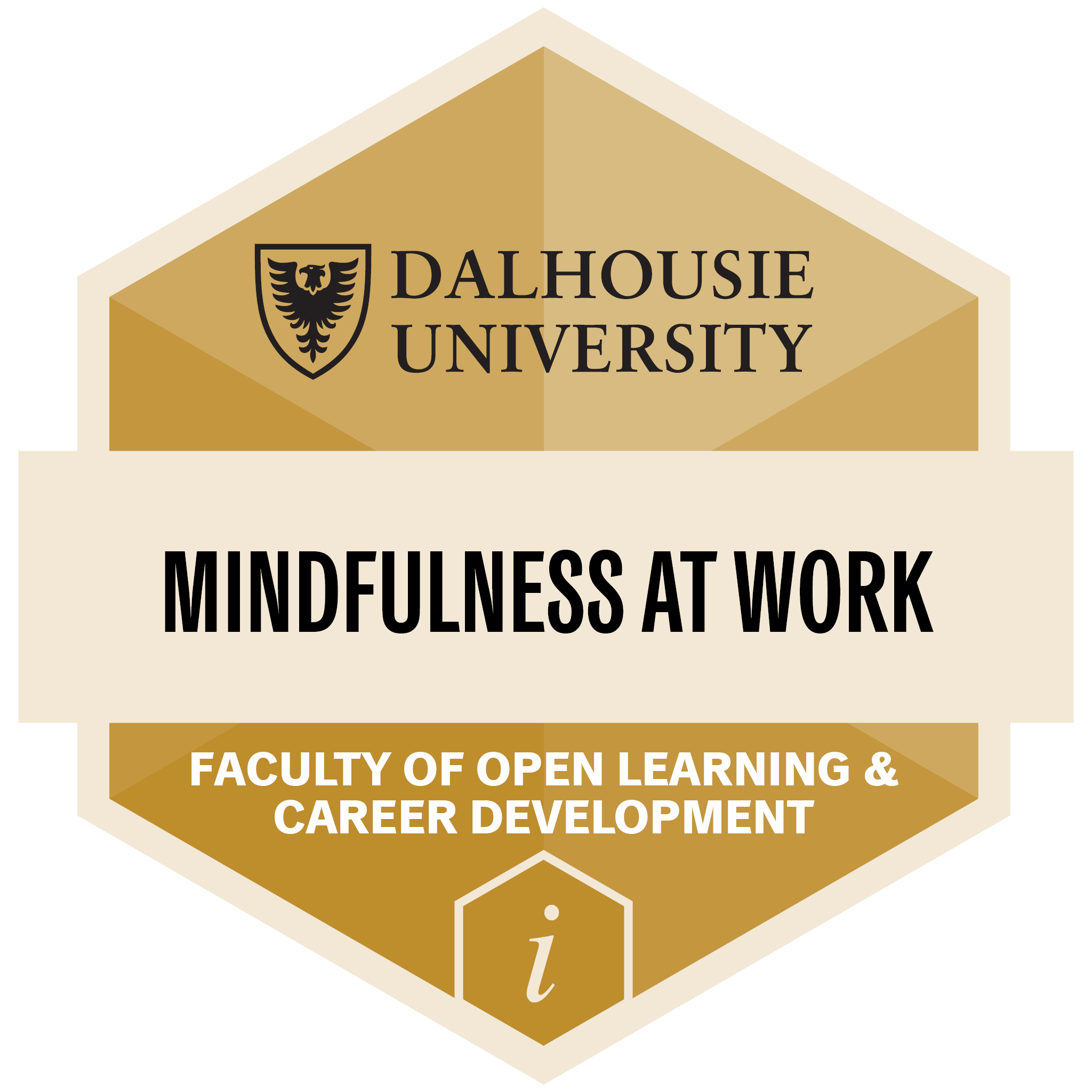 A microcredential is evidence of the mastery of a skill or competency that is desired by employers.
This microcredential reflects mastery of the following competencies:
Mindful Leadership
Resilience
To earn the microcredential in this course, learners will need to successfully complete the competency-based assessment related to the microcredential content.
To learn more about microcredentials and how they can enhance your learning portfolio, watch this 30-second YouTube video (video opens in a new window).
Notes
If you have any questions about this course, please email our registration team at openlearning@dal.ca.
Recommended For
This program is aimed at anyone interested in reducing their stress level and increasing their sense of well-being, focus and productivity – at work and/or in their personal lives. It is geared towards learners new to mindfulness practice as well as practitioners who seek to deepen their practice in a supportive online learning environment.
Testimonials
"Rita was very kind and caring throughout the course, and I felt like I was in a safe place to share. I liked that it was a small class, which enabled me to develop some real relationships with the participants. The tools I learned will be helpful for me going forward in both my professional and personal lives. I would highly recommend this course." Melanie Bond
" This AMAZING course taught me to slow down and take a breath and actually feel it... going in and out.... It is not magic...but it taught me to enjoy my moment and actually appreciate it. I smile more now...Even now I face situations with more persistence to find solutions..." Samah Hamdan, Amman, Jordan
"The teaching throughout this course was about stopping and thinking, before reacting, rather than just reacting when faced with challenges as 2020 has been a unique challenging year. You walk away with tools, techniques and strategies to be more mindful, not just at work, but also at home."
Lawrence McEachern
VP of Operations
Atlantic Leadership Development Institute
"The interactions with the Instructor, Rita, and the other class participants were much more engaging than I would have anticipated via Zoom. I would highly recommend this course if you're finding yourself lost in an increasingly chaotic inbox, never-ending meetings, and even higher piles of work, or if you just want to find ways to improve your practice and be here, now." Kate (course participant from Nova Scotia)
"I was diagnosed with PTSD, depression and anxiety,.. This course has already made a difference in the way I approach work and life...[It] gave me more tools and resources to face adversity." David (course participant from Alberta)
Applies Towards the Following Certificates
Enrol Now - Select a section to enrol in
Required fields are indicated by .