Course Description
This online course is 36 learning hours and requires a minimum commitment of three hours per week over twelve weeks. This includes a one-hour live session with your instructor each week.
The course is a practical introduction to critical thinking, decision-making and problem-solving as needed for leaders in today's complex and rapidly changing contexts. It will teach you frameworks, strategies and skills with which to navigate the decisions, issues and challenges we encounter as leaders today. You will also learn to approach short, medium and long-term decisions and problems with confidence in your evaluation of data, application of decision-making tools and inclusive collation of multiple perspectives. Participants will use scenarios to explore the complexity and pressures of today's decision-making and problem-solving.
Course Outline
Topics and concepts you will study in the course:
Week 1: Theories of Critical Thinking
Week 2: Understanding the Role of Culture in Critical Thinking
Week 3: The Practice of Thinking Critically
Week 4: Decision-Making Approaches and Tools
Week 5: Gathering, Evaluating and Interpreting Data
Week 6: Data-Driven Decision-Making
Week 7: Inclusive Problem-Solving and Decision-Making
Week 8: Idea Generation for Problem-Solving
Week 9: Evaluation Matrices for Solution Selection
Week 10: Managing Ambiguity and Uncertainty in Decision-Making and Problem-Solving
Week 11: Decision-Making and Problem-Solving in Complex, Dynamic Situations
What You Will Learn
Participants will learn how to:
Critically evaluate communications, ideas, perspectives, information and data.
Approach challenges and problems analytically and systematically, applying approaches that are appropriate to the context.
Use data effectively in your problem-solving and decision-making.
Integrate multiple perspectives into your problem-solving and decision-making.
Select solutions to current problems through an objective solution evaluation process appropriate to the context.
Manage ambiguity and uncertainty in your decision-making and problem-solving.
Microcredential
This course provides learners with the opportunity to earn a microcredential. A microcredential is evidence of a skill or competency that is employment related. Dalhousie microcredentials are developed in collaboration with employers, industries, and/or organizations that relate to the content.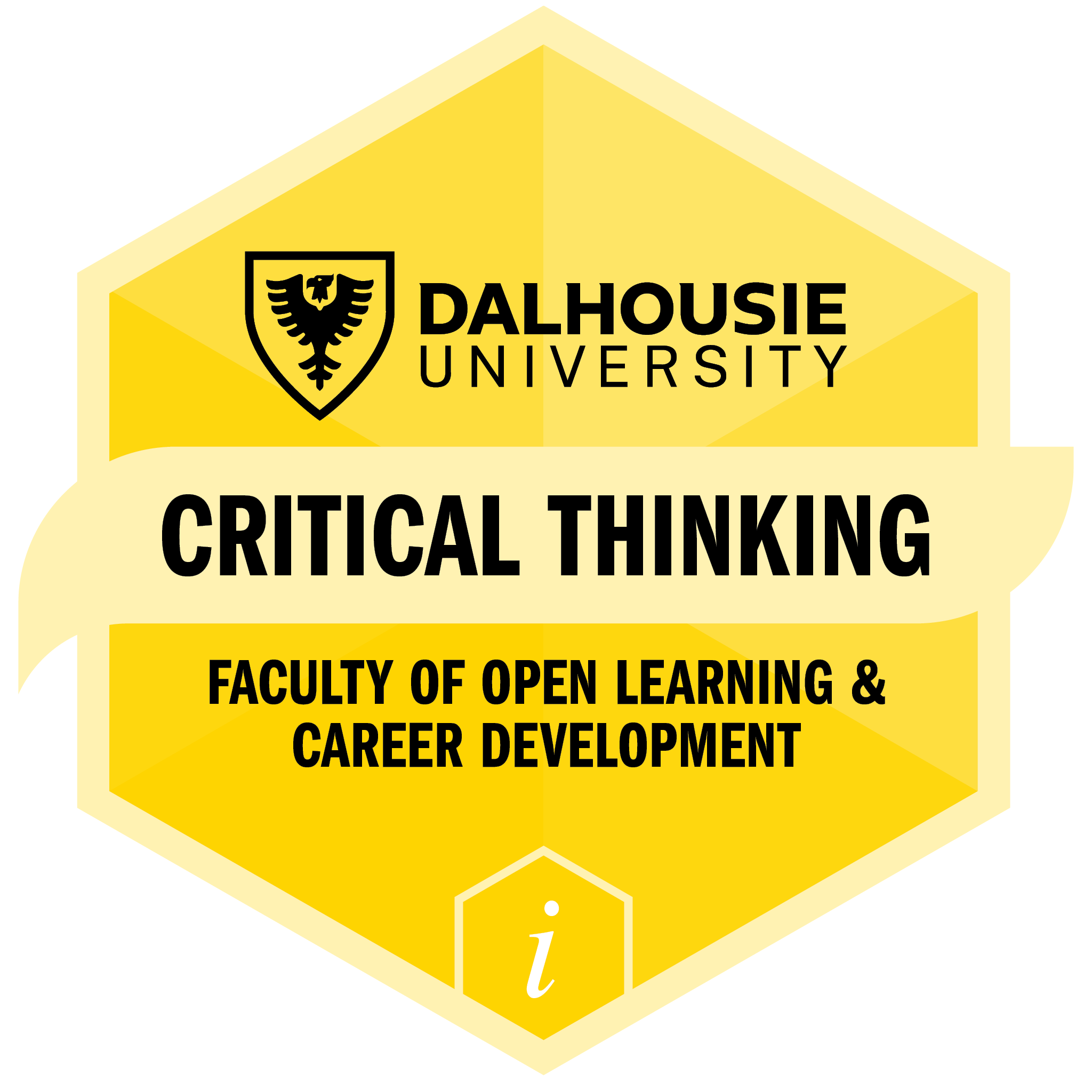 A microcredential can be displayed on social media pages, digital resumes, personal webpages, and in email signatures. To earn the microcredential in this course, learners will need to successfully complete a competency-based assessment.
To learn more about microcredentials and how they can enhance your learning portfolio, watch this 30-second YouTube video (video opens in a new window).
Notes
The Faculty of OLCD recommends an intermediate level of English language proficiency for the most effective learning and participation in our online and face-to-face courses. A list of minimum recommended scores on some common English tests can be found on our website. If you have questions about your English language proficiency and ability to succeed in this course, please contact openlearning@dal.ca.
Prerequisites
There are no prerequisites for this course.

Recommended For
This course is recommended for:
Aspiring, new or current leaders who need to think critically and solve problems in rapidly changing, high-stakes situations and contexts.

Current leaders who are not confident solving problems and making decisions in situations in which the information is incomplete or changing quickly.

Current leaders or managers who would like a refresher on how to think critically, make decisions and solve problems in the high-pressure complexity of today's situations.
Applies Towards the Following Certificates
Enrol Now - Select a section to enrol in
Required fields are indicated by .