Course Description
This online course is 36 learning hours over twelve weeks. It is recommended that students spend a minimum of 3 hours each week on course work. Students may choose to complete more hours of work on the course in order to explore the content in more depth.

Carefully crafted to enable you to learn both about leadership and how to lead, this interactive course brings you on a development journey in which you learn about yourself, develop your leadership skills (applying learning as you go), and – working with classmates – learn by doing. The course also helps you contextualize learning through exercises in your workplace to enable you build on your learning at work and throughout your career.
Course Outline
Topics and concepts you will study in the course include:
Leadership theories (including transactional leadership, transformative leadership, laissez-faire leadership, authentic leadership, servant leadership, situational leadership, visionary leadership, shared leadership, and distributed leadership)
Followership
Leadership development
Authority and Responsibility
Self-efficacy
Emotional Intelligence
Race, gender, culture, introversion and extroversion
Communication and persuasion
Vision, future focus, and strategy
Decision Making
In addition, you will study yourself through a course-long journaling exercise and participate in some peer-mentoring to help you learn how to give and receive feedback.
What You Will Learn
Following successful completion of this course, participants will:
Be familiar with leadership theories and have developed a robust understanding of leadership, and followership while cultivating their own leadership approach
Have insight into how leadership development works and how to develop other leaders
Understand formal and informal authority, what it is to wield power, and what the abuse of power is
Understand how factors such as race, gender, and culture influence behavior and perceptions of leadership
Understand the concept of self-efficacy and its importance for leadership and leadership development
Realize the importance of self-awareness and self-reflection
Know how to be authentic while still changing what you do and how you do it and have practiced mentoring others (an important leadership skill), and moving themselves from a "current self" to a "future self"
Have practiced the leadership skills of communicating, planning, giving and receiving feedback
Be able identify and analyze both good and bad leadership
Have greater self-awareness and self-efficacy
Microcredential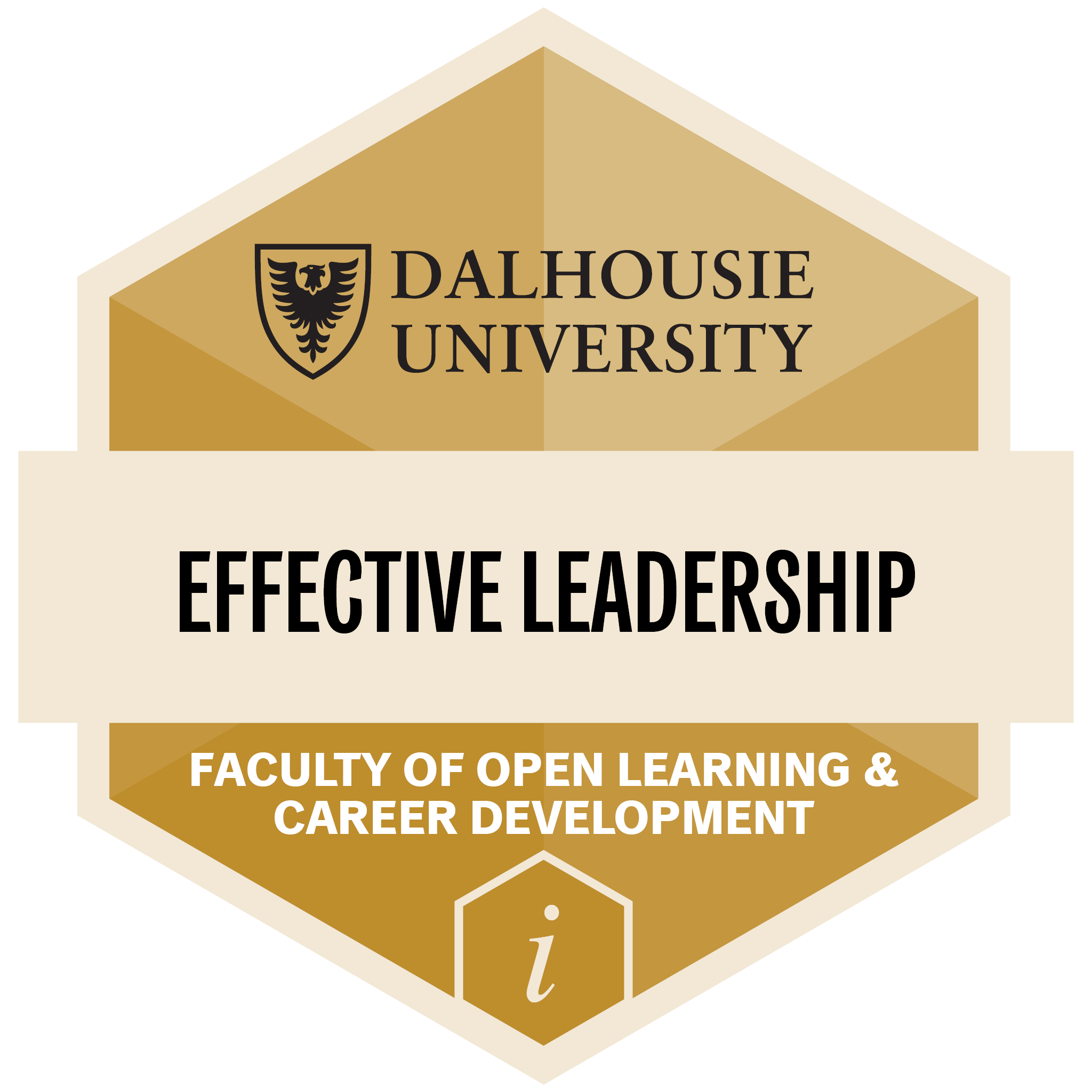 This course provides learners with the opportunity to earn a microcredential. A microcredential is evidence of a skill or competency that is employment related. Dalhousie microcredentials are developed in collaboration with employers, industries, and/or organizations that relate to the content. A microcredential can be displayed on social media pages, digital resumes, personal webpages, and in email signatures. To earn the microcredential in this course, learners will need to successfully complete a competency-based assessment.
To learn more about microcredentials and how they can enhance your learning portfolio, watch this 30-second YouTube video (video opens in a new window).
Notes
The Faculty of OLCD recommends an intermediate level of English language proficiency for the most effective learning and participation in our online and face-to-face courses. A list of minimum recommended scores on some common English tests can be found on our website. If you have questions about your English language proficiency and ability to succeed in this course, please contact openlearning@dal.ca.
Prerequisites
There are no prerequisites for this course.

Recommended For
This course is recommended for:
Seasoned, experienced, leaders who wish to revitalize their thinking on leadership
Aspiring or newly appointed leaders and managers in public or private sector organizations of all sizes
People with responsibility for leading or managing others, such as crew-chiefs, floor managers, nurses, police officers, and supervisors
HR professionals and anyone with an interest in understanding leadership and organizational behavior
Applies Towards the Following Certificates
Required fields are indicated by .