Course Description
This online course is 36 learning hours over twelve weeks, including 7.5 hours of live online sessions. It is recommended that students spend a minimum of 3 hours each week on coursework. Students may choose to complete more hours of work on the course in order to explore the content in more depth.

This highly interactive course includes journaling, teamwork, and online discussions to enable active learning. It requires deep thinking in order to help you become consciously aware of and articulate clearly about ethics, as well as about your personal ethics and values, ethical dilemmas, and ethical decision-making models. This course focuses on practically relating these learnings to your working life, whether this is in a private business or public service context.
Course Outline
Topics and concepts you will study in the course include:
'Values', 'Morals, and 'Ethics'
Ethical theories (including Deontology, Utilitarianism, Rights and Virtue)
Fatalistic Relativism and Ethical Relativism
Personal values, ethical dilemmas, and confirmation bias
Various ethical decision-making and moral analysis models
Professionalism, professionalization, and the relationship between ethics and professionalism
The Stages of Moral Development
Confidentiality, competency, and reporting misconduct in the workplace
The importance of ethics in leadership
Conformism and responsibility
Codes of Conduct, Codes of Ethics, Oaths, and the role of Governance within organizations
Role Morality, groupthink, the externalization of ethics and the agentic state
Shareholder vs. Stakeholder Theory
Privacy and Informed Consent
Ethical considerations that exist in the workplace including whistleblowing
What You Will Learn
Following successful completion of this course, participants will:
Understand fundamental moral and ethical theories and become confident in communicating about personal and professional ethics
Be familiar with how to use ethical decision-making models pragmatically, both personally and professionally
Gain insight into the nuances of ethics and understand the importance of considering various ethical stances
Be aware of the importance of ethics in the workplace, including the use of codes of conduct and other governance measures
Have explored hypothetical and real-life ethical dilemmas
Have examined the self and how to manage oneself
Be able to identify Organizational Integrity
Have developed a code of ethics with a team
Understand how to identify what stage of moral development people are functioning within
Have learnt how to lead and manage ethically
Considered the relevance of your learning to real ethical challenges faced by your organization
Explored ethics in the context of modern technological developments
Microcredential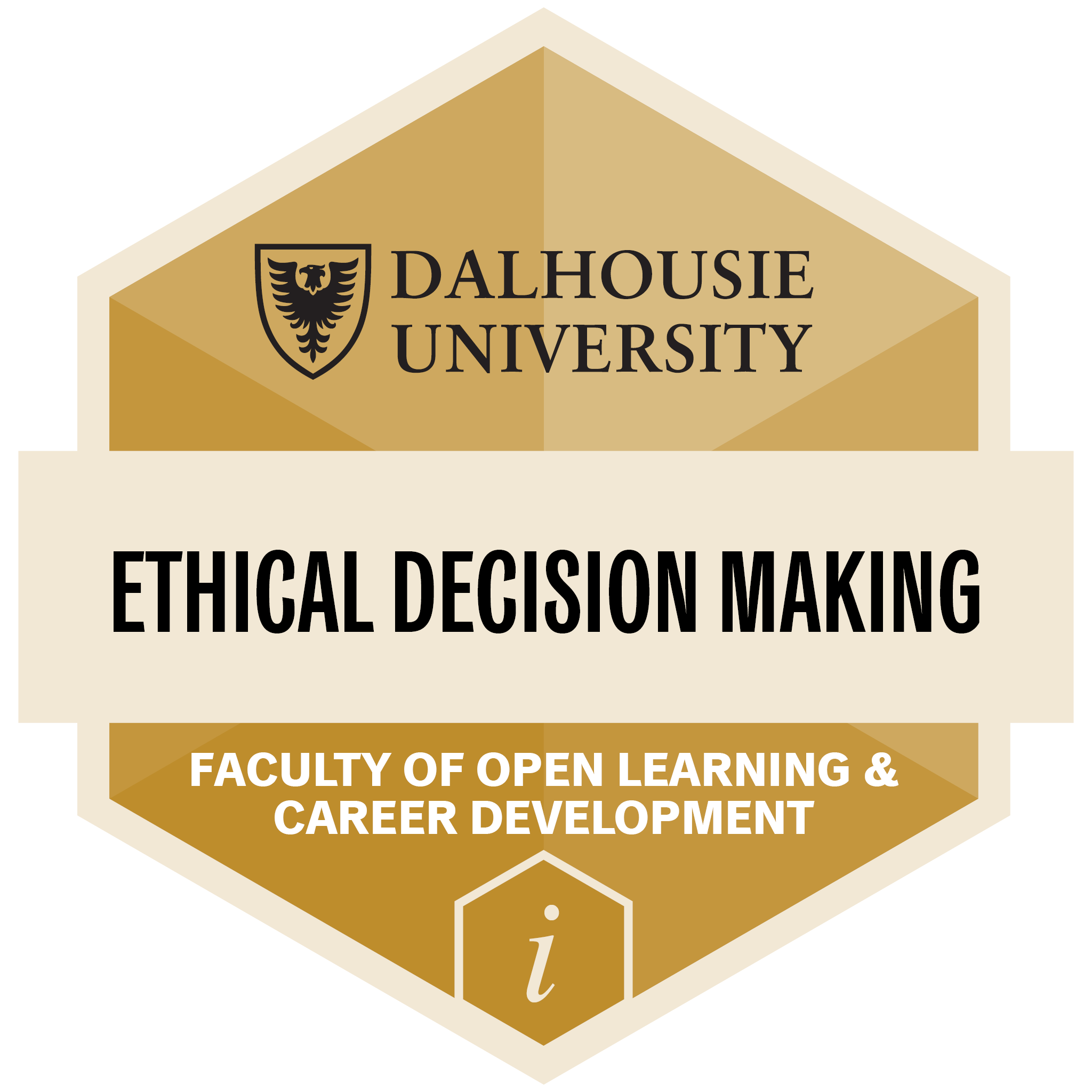 This course provides learners with the opportunity to earn a microcredential. A microcredential is evidence of a skill or competency that is employment related. Dalhousie microcredentials are developed in collaboration with employers, industries, and/or organizations that relate to the content.Program Design A microcredential can be displayed on social media pages, digital resumes, personal webpages, and in email signatures. To earn the microcredential in this course, learners will need to successfully complete a competency-based assessment.
To learn more about microcredentials and how they can enhance your learning portfolio, watch this 30-second YouTube video (video opens in a new window).
Notes
Please contact openlearning@dal.ca for more information.
The Faculty of OLCD recommends an intermediate level of English language proficiency for the most effective learning and participation in our online and face-to-face courses. A list of minimum recommended scores on some common English tests can be found on our website. If you have questions about your English language proficiency and ability to succeed in this course, please contact openlearning@dal.ca.
Prerequisites
There are no prerequisites for this course.

Recommended For
This course is recommended for:
Seasoned, experienced, leaders who wish to revitalize their thinking on ethics and ethics in the workplace
Aspiring or newly appointed leaders and managers in public or private sector organizations of all sizes
People with responsibility for managing internal and external conflicts of interest
Anybody in a position of trust within their organization
Consultants, advisors, coaches, mentors, HR professionals and others who can benefit from a robust understanding of ethics
Applies Towards the Following Certificates
Enrol Now - Select a section to enrol in
Required fields are indicated by .