Course Description
This online course is 36 learning hours over twelve weeks, including 7.5 hours of live online sessions. It is recommended that students spend a minimum of 3 hours each week on coursework. Students may choose to complete more hours of work on the course in order to explore the content in more depth.

This course will provide you with a robust foundation of strategic knowledge by exploring strategy in several domains. It has been designed to have you learn both about strategy and how to be strategic, providing learners with the knowledge needed to understand strategy as well as the opportunity to build the skills and competencies required to leverage this understanding.
Course Outline
Topics and concepts you will study in the course include:
Military strategy, national strategy, diplomatic strategy, political strategy, public sector strategy and competitive strategy
Strategic management in public sector organizations
Mintzberg and colleagues' 10 schools of strategy
Approaches to and challenges with crafting strategy
Strategy tools (including SWOT analysis, the BCG Matrix, Porter's 5 Forces, PEST analysis)
Game theory
Blue Ocean Strategy
Functional strategies (including marketing strategy, HR strategy, and manufacturing strategy)
Approaches to and challenges with strategy execution
Strategic learning
Cultural and cognitive considerations for decision-making
What You Will Learn
Following successful completion of this course, participants will:
Have developed a deep understanding of strategy and understand what strategy involves in different contexts
Be able to explain the difference between strategy and tactics
Be familiar with the origin of modern strategic thinking and have become acquainted with some of the world's most prominent strategic thinkers
Understand the strengths and limitations of the various schools of strategy and appreciate the importance of strategic learning
Be familiar with a range of strategy formation and implementation tools
Have practiced making decisions in the face of uncertainty
Be aware of the importance of strategy execution, the challenges associated with it, and approaches to drive effective implementation
Applied your learning to real strategic challenges faced by your organization and those of others in your course working group
Microcredential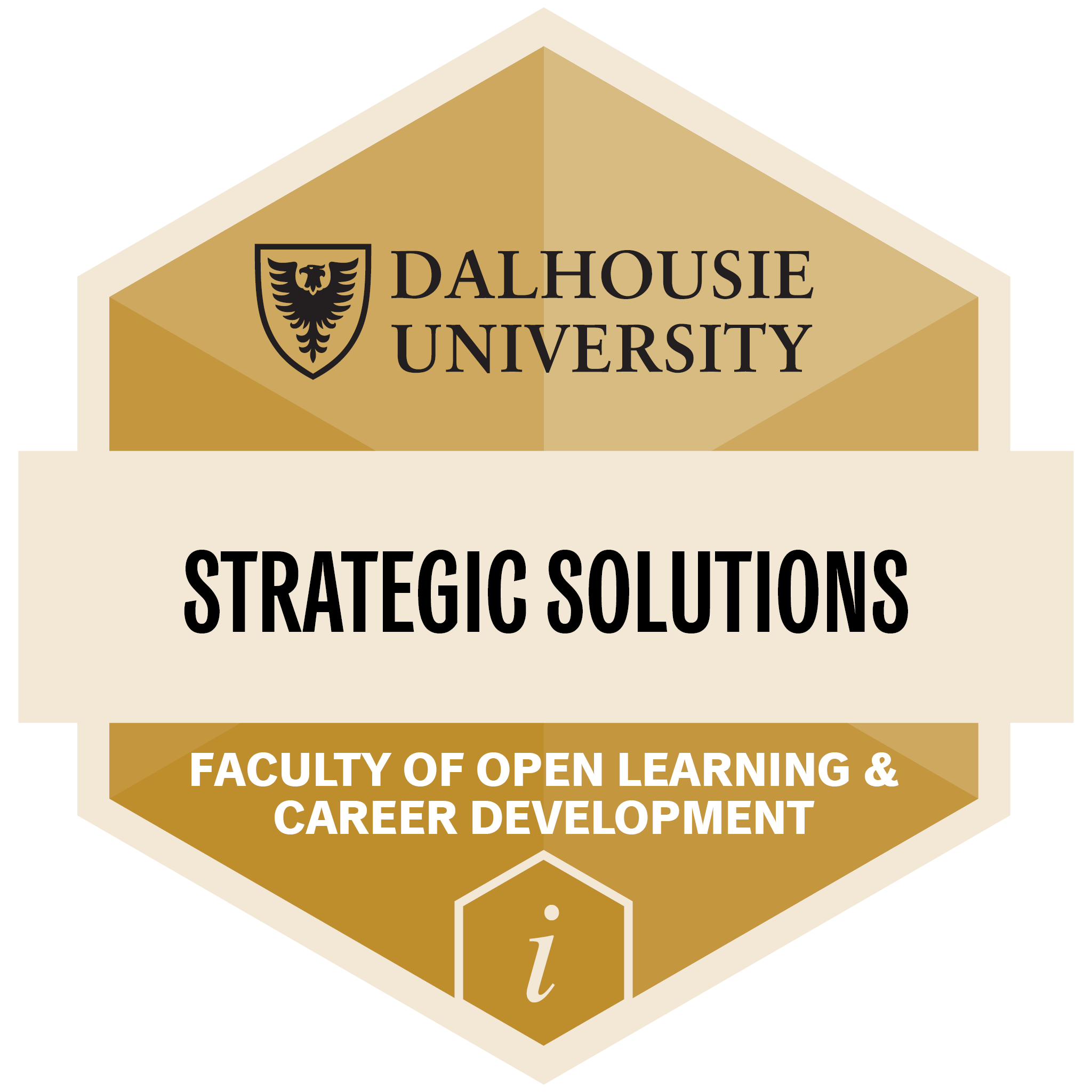 This course provides learners with the opportunity to earn a microcredential. A microcredential is evidence of a skill or competency that is employment related. Dalhousie microcredentials are developed in collaboration with employers, industries, and/or organizations that relate to the content. A microcredential can be displayed on social media pages, digital resumes, personal webpages, and in email signatures. To earn the microcredential in this course, learners will need to successfully complete a competency-based assessment.
To learn more about microcredentials and how they can enhance your learning portfolio, watch this 30-second YouTube video (video opens in a new window).
Notes
The Faculty of OLCD recommends an intermediate level of English language proficiency for the most effective learning and participation in our online and face-to-face courses. A list of minimum recommended scores on some common English tests can be found on our website. If you have questions about your English language proficiency and ability to succeed in this course, please contact openlearning@dal.ca.
Prerequisites
There are no prerequisites for this course.

Recommended For
This course is recommended for:
Seasoned, experienced leaders who wish to update or revitalize their thinking on strategy
Aspiring or newly appointed managers in public or private sector organizations of all sizes
Anyone who is tasked with developing or implementing strategy in an organization
Consultants, advisors, coaches, project managers, HR professionals and others who can benefit from a robust understanding of strategy
Testimonials
I really enjoyed the facilitated discussions; they were very informative, and I took a lot out of them. The simulation was a great learning tool.
~ Nadia Punchard, Financial Administrator, Sunshine Coast Health Centre
I got a lot of value from the course. The facilitated discussions made it feel more like a learning environment where we were interacting with each other. It was great to get out of my bubble and interact with people doing totally different things.
~ Jennifer Prunty - Detachment Commander, RCMP
The group work and class discussions were great. And I really liked that we got to know our instructors. This was definitely the class I took the most from.
~ Leanne Pickrem, Manager, CSI Background Screening
Applies Towards the Following Certificates
Enrol Now - Select a section to enrol in
Required fields are indicated by .