Course Description
This online course is 36 learning hours over twelve weeks, including 7.5 hours of live online sessions. It is recommended that students spend a minimum of 3 hours each week on coursework. Students may choose to complete more hours of work on the course in order to explore the content in more depth.

In this course you will learn what makes marketing a critical activity in business growth, exploring the broad principles and practices of marketing from a practical perspective. Topics will cover basic marketing concepts, product and service development, strategic marketing planning, and how to keep pace in today's competitive market.
Course Outline
Unit 1: What is Marketing?
Demonstrate a clear understanding of the marketing concept and how it applies in a real-world setting.
Know how real marketing creates value for the consumer, the company & society.

Unit 2: Market Segmentation & Targeting
Demonstrate your understanding of common approaches to market segmentation & targeting.

Unit 3: Product Development & Management
Understand what a product/service is and why it is the core of the marketing mix.
Demonstrate your understanding of the process of developing a new product.
Demonstrate your understanding of Product Life Cycle as a basis for product management.

Unit 4: Marketing Strategy
Demonstrate a good understanding of the inputs and components of a marketing strategy.
Understand how to align marketing strategy with corporate & marketing objectives.
Identify the difference between marketing strategy & tactics and how they can be used to achieve marketing objectives.

Unit 5: Positioning & Differentiation
Understand the importance of positioning & differentiation and how they can be utilized as competitive strategic tools.

Unit 6: Pricing Strategies
Understand how price affects value of products & services.
Utilize different pricing strategies.

Unit 7: Place – Distribution Channels
Explore distribution channels.
Identify distribution objectives and how channel members can help in achieving them.
Know why retailing as a key distribution channel.

Unit 8: Promotion & IMC
Understand Integrated Marketing Communication (IMC) and why it matters.
Know common marketing communication methods and when to apply them.
Clearly define your communication message

Unit 9: Digital & Social Media Marketing
Understand digital media in the context of digital marketing.
Analyse the relevance of social media and how it can be integrated into your marketing campaign.

Unit 10: Marketing Plan
Develop a workable marketing plan that incorporates objectives, strategies, tactics & control measures.
What You Will Learn
How to use marketing concepts to meet and sustain customers needs and interest
The difference between marketing strategies and marketing tactics
The key tactical elements of marketing
How to develop, price, promote and distribute your own product or service
The different components that make up a good marketing plan and how to develop an objective-based marketing plan
Why social media must be incorporated in your marketing campaign activities
Microcredential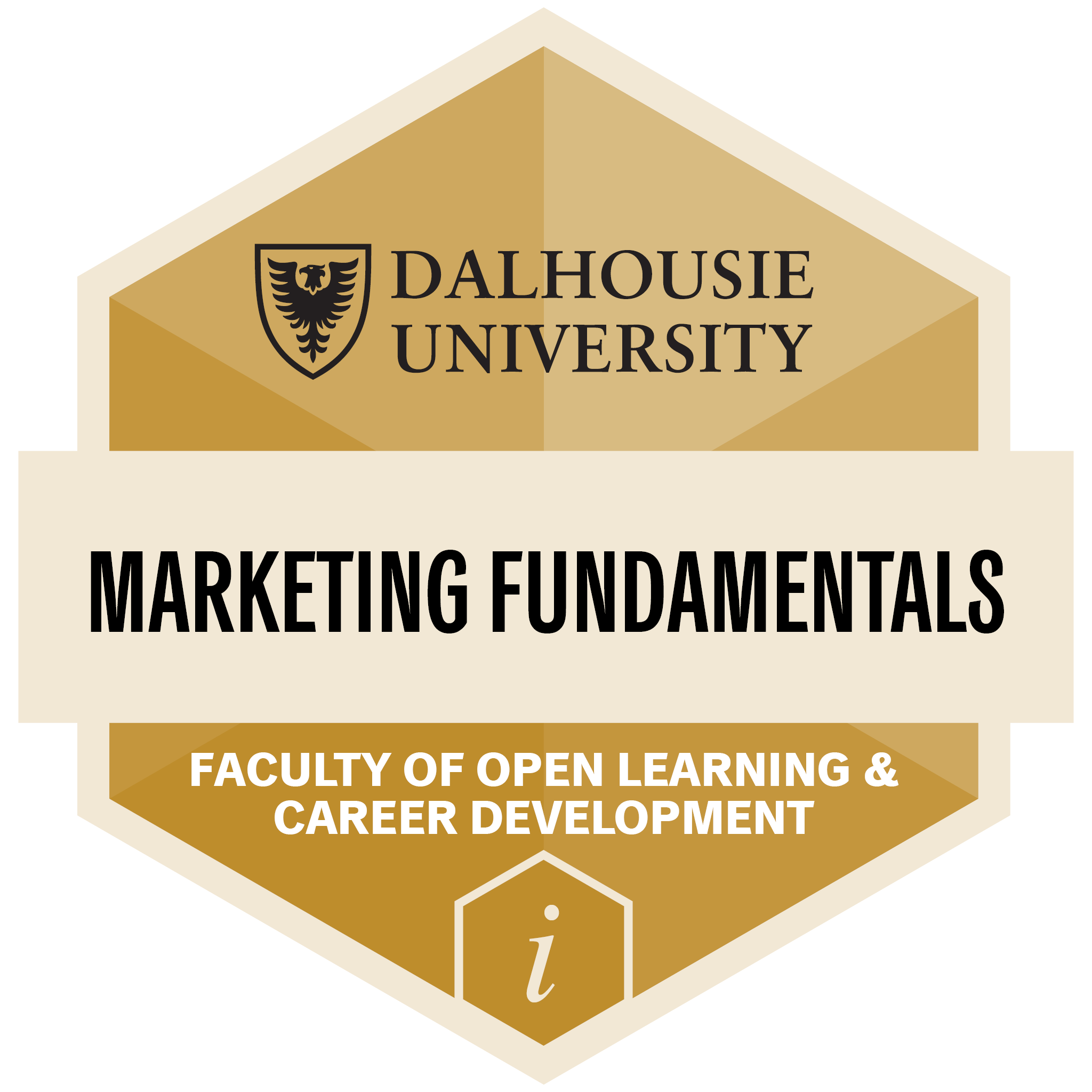 This course provides learners with the opportunity to earn a microcredential. A microcredential is evidence of a skill or competency that is employment related. Dalhousie microcredentials are developed in collaboration with employers, industries, and/or organizations that relate to the content. A microcredential can be displayed on social media pages, digital resumes, personal webpages, and in email signatures. To earn the microcredential in this course, learners will need to successfully complete a competency-based assessment.
To learn more about microcredentials and how they can enhance your learning portfolio, watch this 30-second YouTube video (video opens in a new window).
Notes
This course has scheduled written assignments and scheduled discussions within the term time frame. Course syllabus will be available on the course site.
The Faculty of OLCD recommends an intermediate level of English language proficiency for the most effective learning and participation in our online and face-to-face courses. A list of minimum recommended scores on some common English tests can be found on our website. If you have questions about your English language proficiency and ability to succeed in this course, please contact openlearning@dal.ca.
Recommended For
Applies Towards the Following Certificates ·
Certificate in Business Management : Elective Course
Certificate in Human Resource Management : Required Course
Applies Towards the Following Certificates
Enrol Now - Select a section to enrol in
Required fields are indicated by .