Course Description
This online course is 36 learning hours over twelve weeks. It is recommended that students spend a minimum of 3 hours each week on course work. Students may choose to complete more hours of work on the course in order to explore the content in more depth.

This course is a practical introduction to financial and accounting concepts that will equip you to make decisions based on financial information as a leader of organization. The course will teach you to interpret and apply financial information for short, medium and long-term decisions. The course is practical, using case studies to explore the financial information of different types of real organizations. Assessments throughout the course allow you the opportunity to apply what you learn to decisions you face in your organization.
Course Outline
Topics and concepts you will study in the course include the following:
Using Financial Information for Decision-Making
Introduction to Financial Statements
What Financial Statements Tell You About an Organization
Introduction to Budgeting
Building a Useful and User-Friendly Budget
Using a Budget for Daily Decision-Making
Ratios for Financial Decision-Making
Developing Analytical Tools for Financial Decision-Making
What You Will Learn
You will learn to NOT be afraid of financial information and financial processes.
You will learn to understand the story that financial information tells about an organization.
You will learn how to use key financial information to guide your decision-making as an organizational leader.
Microcredential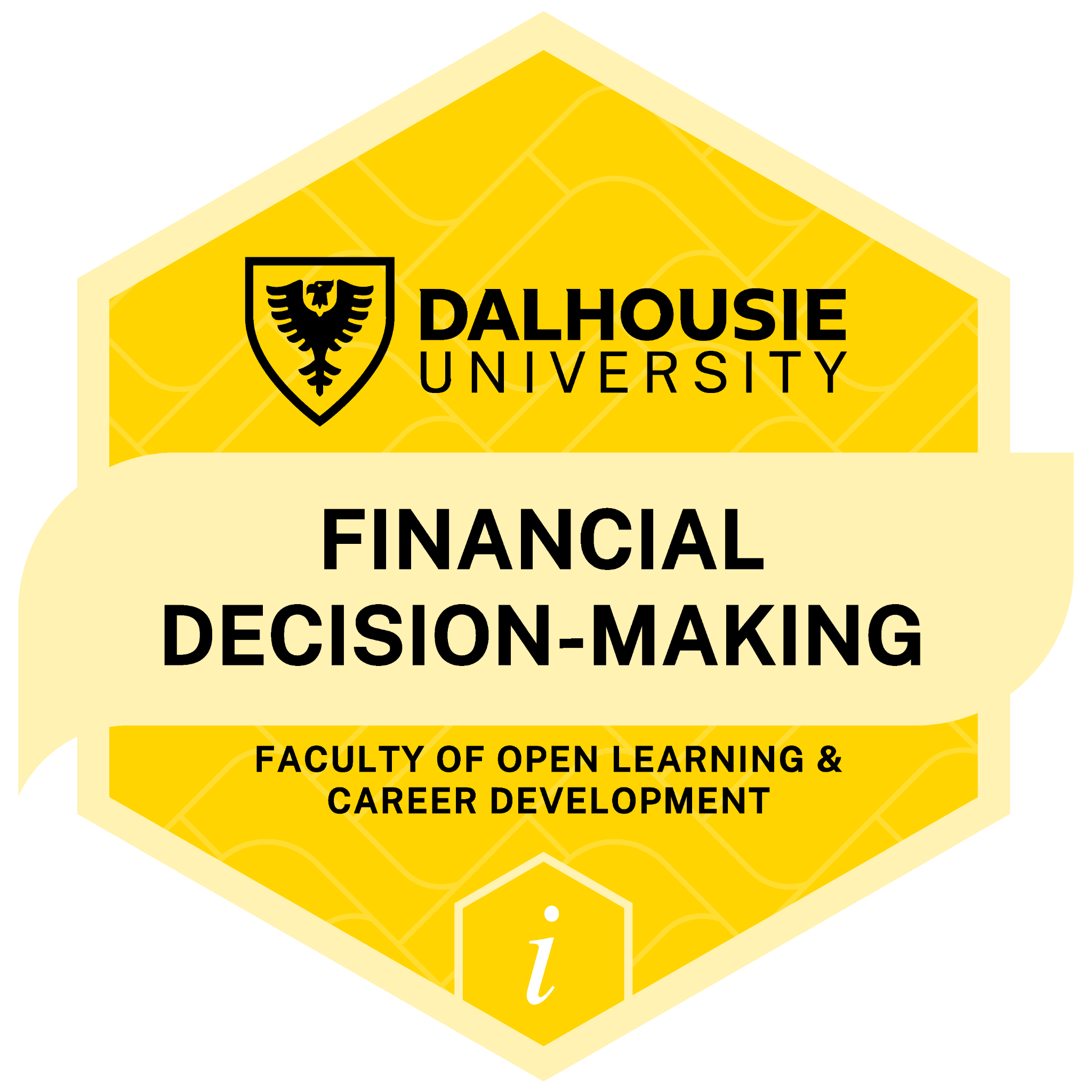 This course provides learners with the opportunity to earn a microcredential. A microcredential is evidence of a skill or competency that is employment related. Dalhousie microcredentials are developed in collaboration with employers, industries, and/or organizations that relate to the content. A microcredential can be displayed on social media pages, digital resumes, personal webpages, and in email signatures. To earn the microcredential in this course, learners will need to successfully complete a competency-based assessment.
To learn more about microcredentials and how they can enhance your learning portfolio, watch this 30-second YouTube video (video opens in a new window).
Notes
The Faculty of OLCD recommends an intermediate level of English language proficiency for the most effective learning and participation in our online and face-to-face courses. A list of minimum recommended scores on some common English tests can be found on our website. If you have questions about your English language proficiency and ability to succeed in this course, please contact openlearning@dal.ca.
Prerequisites
There are no prerequisites for this course.
Recommended For
This course is recommended for:
Aspiring, new and current leaders or managers who need to understand and use financial information to make decisions in their organizations.
Current leaders or managers who are not comfortable discussing and interpreting their organization's financial information.
Current leaders or managers who would like a refresher on how to use their organization's financial information for decision-making.
The course requires a minimum commitment of three hours a week over twelve weeks.
Applies Towards the Following Certificates
Required fields are indicated by .