Course Description
This course is 20 learning hours inclusive of 4.5 hours of live sessions. It is recommended that learners spend approximately 6-7 hours (inclusive of the 1.5 hour live session) per week on course materials.

This course will take a deep dive into the subjects of diversity and inclusion. It will provide participants with an increased understanding and confidence in engaging in conversations that highlight the urgency for advancing diversity and inclusion in this moment.
Course Outline
Module 1: Ways of Knowing: Internalizing Diversity and Inclusion
Module 2: Dynamics of Diversity within Workplace Cultures
Module 3: Maximizing on the Benefits of Diversity: Strategies for Nurturing Inclusive Workplace Cultures
What You Will Learn
The meaning of terminology related to diversity
The connection between the "personal" and "professional" dynamics of diversity and inclusion
How to examine the dimensions of one's identity and how it shapes their views, values, perceptions and behaviours within organizations
How to create a space for individuals to share their stories, including discussions about their "personal" diversity, roles, culture, concerns and visions for diversity and inclusion
An understanding of perspective shifting and why it's essential to increase "diversity" consciousness in this moment
Practical strategies for advancing the envelope on diversity and inclusion
Microcredential
This course provides learners with the opportunity to earn a microcredential. A microcredential is evidence of a skill or competency that is employment related. Dalhousie microcredentials are developed in collaboration with employers, industries, and/or organizations that relate to the content.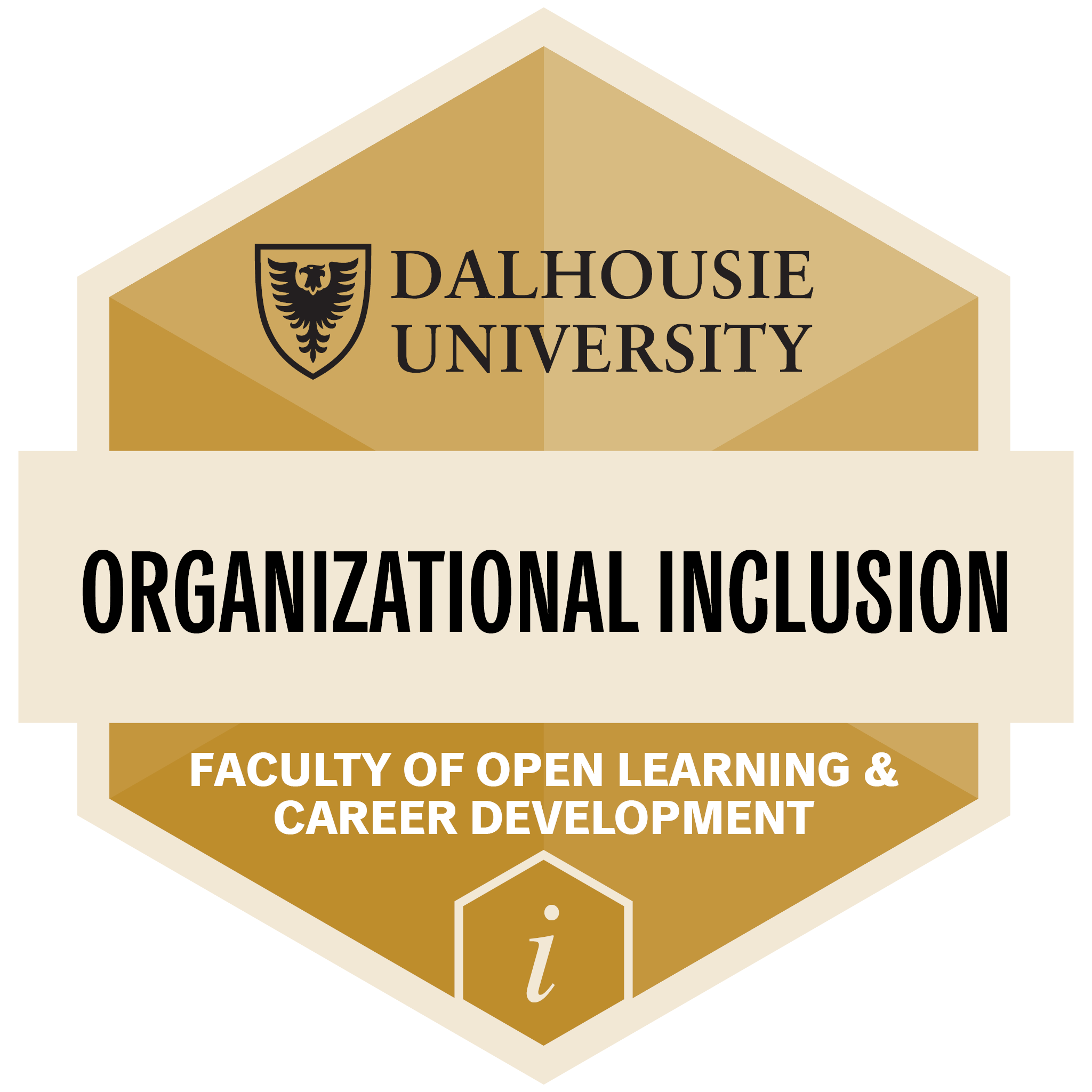 A microcredential can be displayed on social media pages, digital resumes, personal webpages, and in email signatures. To earn the microcredential in this course, learners will need to successfully complete a competency-based assessment.
To learn more about microcredentials and how they can enhance your learning portfolio, watch this 30-second YouTube video (video opens in a new window).
Notes
By enrolling in this course, you will be automatically enrolled in the Certificate in Equity, Diversity, and Inclusion. This certificate consists of four courses. You are not required to take the courses in order, but it is recommended that you take OLCD-IDEA0004 after completing the first three courses in the certificate (OLCD-IDEA0001, 0002, 0003).
Please note: These courses fill up quickly, and registration is one course does not guarantee your spot in another. You must register for each course individually to reserve your spot.

For assistance or more information, please contact openlearning@dal.ca.
The Faculty of Open Learning and Career Development recommends an intermediate level of English language proficiency for the most effective learning and participation in our online and face-to-face courses. A list of minimum recommended scores on some common English tests can be found on our website. If you have questions about your English language proficiency and ability to succeed in this course, please contact openlearning@dal.ca.
Recommended For
Anyone interested in learning how to advance the agenda on diversity and inclusion within their respective organization
Testimonials
"I would definitely recommend this course to others. This course sets the groundwork for embarking on a learning journey into EDI. The course helps you dive deep into some of your own biases and opens your eyes to how diversity and inclusion are incorporated into the workplace."
~ Vanessa DeClercq
Applies Towards the Following Certificates
Enrol Now - Select a section to enrol in
Required fields are indicated by .