Course Description
This course is 20 learning hours inclusive of 4.5 hours of live sessions. It is recommended that learners spend approximately 6-7 hours (inclusive of the 1.5 hour live session) per week on course materials.

This course focuses on the art of inclusive communications. Participants will identify barriers to effective inclusive communications, exploring how it can bridge differences and support organizational goals for advancing diversity and inclusion.
Course Outline
Module 1: Inclusive Communications: What do we mean by "Inclusive" Communications
Module 2: Inclusive Communication Essentials: Key Considerations
Module 3: Changing the Conversation: Strategies and Ideas for Integrating Inclusive Communication Practices
What You Will Learn
The characteristics of an inclusive organization culture
How to use appropriate language when discussing or referring to diverse groups
How to identify barriers to inclusive communications
Best practices on responding to communication conflicts through courageous conversations
Strategies to promote inclusive communications
Microcredential
This course provides learners with the opportunity to earn a microcredential. A microcredential is evidence of a skill or competency that is employment related. Dalhousie microcredentials are developed in collaboration with employers, industries, and/or organizations that relate to the content. A microcredential can be displayed on social media pages, digital resumes, personal webpages, and in email signatures. To earn the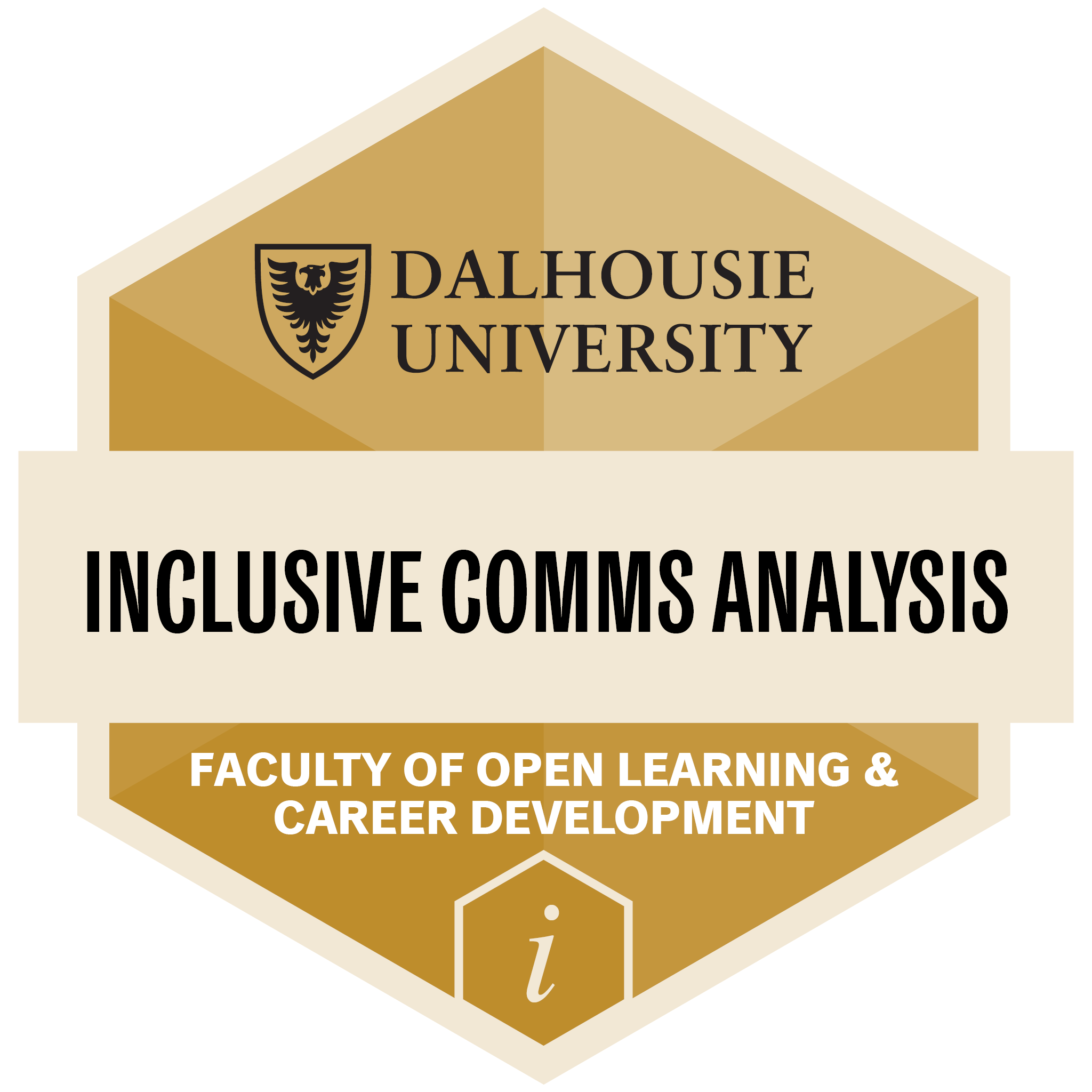 microcredential in this course, learners will need to successfully complete a competency-based assessment.
To learn more about microcredentials and how they can enhance your learning portfolio, watch this 30-second YouTube video (video opens in a new window).
Notes
By enrolling in this course, you will be automatically enrolled in the Certificate in Equity, Diversity, and Inclusion. This certificate consists of four courses. You are not required to take the courses in order, but it is recommended that you take OLCD-IDEA0004 after completing the first three courses in the certificate (OLCD-IDEA0001, 0002, 0003).
Please note: These courses fill up quickly, and registration is one course does not guarantee your spot in another. You must register for each course individually to reserve your spot.

For assistance or more information, please contact openlearning@dal.ca.
The Faculty of Open Learning and Career Development recommends an intermediate level of English language proficiency for the most effective learning and participation in our online and face-to-face courses. A list of minimum recommended scores on some common English tests can be found on our website. If you have questions about your English language proficiency and ability to succeed in this course, please contact openlearning@dal.ca.
Recommended For
Anyone interested in learning how to advance the agenda on diversity and inclusion within their respective organization.
Testimonials
"I highly recommend this course to others. The course instructor, Crystal, has amazing enthusiasm for the subject matter and is so welcoming and inclusive of everyone in the course. Everyone had a chance to share and participate in discussions in a safe space capacity.
The Read, Watch, Listen materials that were part of the course were very relevant, topical, thought-provoking and engaging. The other classmates in this course also made the course experience for me. It was clear that everyone wants to be there and is truly interested in the subject matter and improving their knowledge of how to better their skills in inclusive communications. We all, the classmates and instructor, worked so well together. The 90-minute live sessions each week would fly by. I'm already looking forward to the next course as I continue in the Certificate in Equity, Diversity and Inclusion."
~ Genevieve MacIntryre, Manager of Student Recruitment, Communications and Marketing, Faculty of Arts & Social Sciences, Dalhousie University
Applies Towards the Following Certificates
Enrol Now - Select a section to enrol in
Required fields are indicated by .