Course Description
This course is 20 learning hours inclusive of 4.5 hours of live sessions. It is recommended that learners spend approximately 6-7 hours (inclusive of the 1.5 hour live session) per week on course materials.

This course supports learners as they gain insights into their own contributions to their team's effectiveness. Participants will foster a deeper understanding of the ways they can optimize diverse teams contributions to organizational success. Team relationships are at the center of organizational success. Research evidence demonstrates that diverse teams lead to increased performance and higher profitability. To build a culture that fosters diversity, organizations must do the work to maximize on the benefits of the diversity on their teams. While organizations can reap the benefits that diverse teams bring to the workplace, they must also be prepared to respond to diverse team related challenges. This course will examine some of the challenges that diverse teams face and introduce strategies to optimize diverse team capabilities. Participants will not only gain insights into their own contributions to their team's effectiveness, they will also gain a deeper understanding of ways to leverage on the benefits that diverse teams contribute to organizational success. Following completion of this course, participants will be better positioned to optimize their team performance as well as optimize diverse teams. Participants will engage in group work, simulations, discussions and reflective practice activities that will provoke thought and generate new ideas that will enhance inclusive communication practices.
Course Outline
Module 1: Understanding Key Components of High Performing Teams
Module 2: Organizational Culture: Setting the tone for Optimizing Diverse Teams
Module 3: Buiding Strategies to Optimize Diverse Teams
What You Will Learn
How your communication style can influence team relationships
A clearer sense of how you view your team, how they view you, and how they perform
How to examine key elements for fostering diverse teams
The principles of building high performing diverse teams
How to resolve team conflicts
Strategies for optimizing diverse team performance
Microcredential
This course provides learners with the opportunity to earn a microcredential. A microcredential is evidence of a skill or competency that is employment related. Dalhousie microcredentials are developed in collaboration with employers, industries, and/or organizations that relate to the content.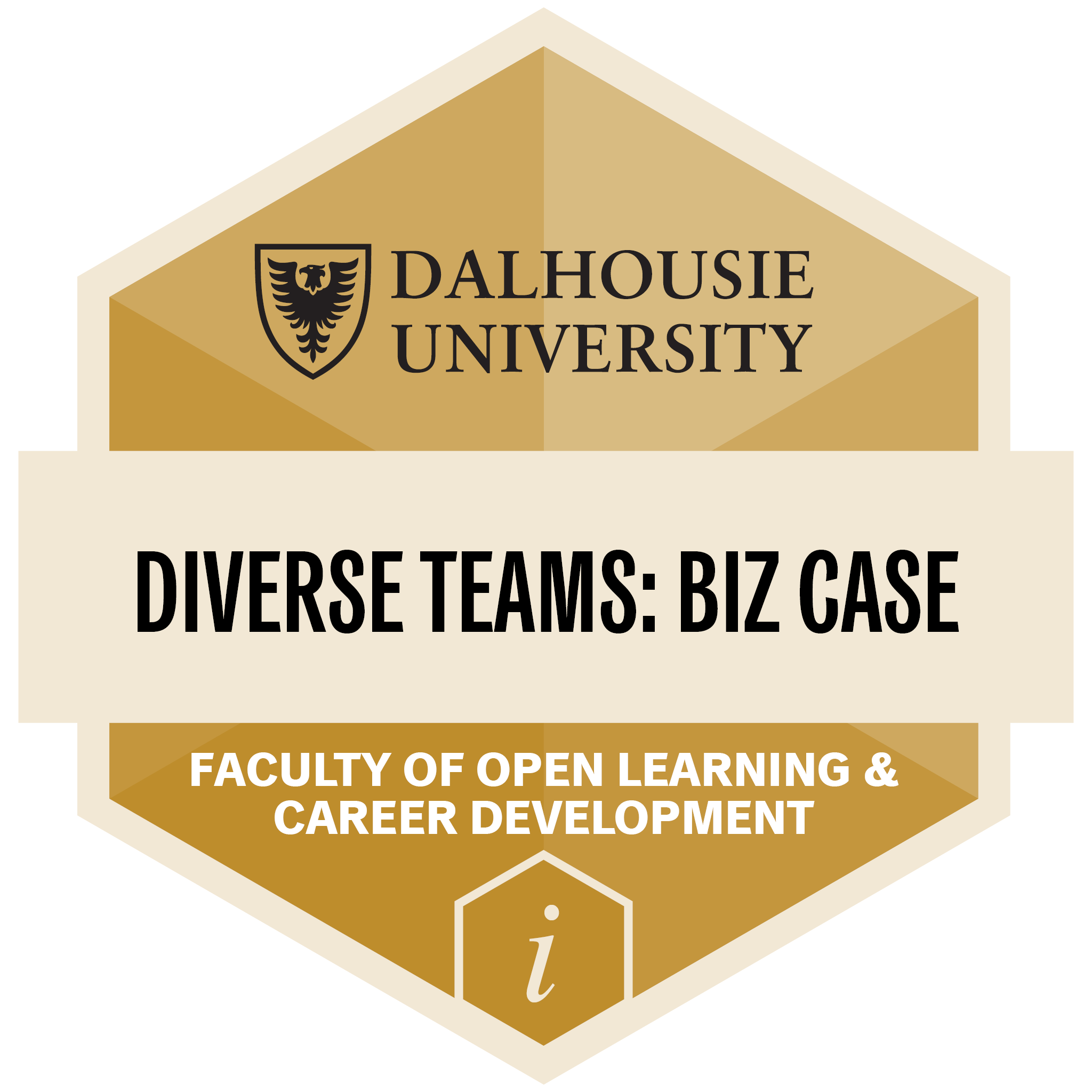 A microcredential can be displayed on social media pages, digital resumes, personal webpages, and in email signatures. To earn the microcredential in this course, learners will need to successfully complete a competency-based assessment.
To learn more about microcredentials and how they can enhance your learning portfolio, watch this 30-second YouTube video (video opens in a new window).
Notes
By enrolling in this course, you will be automatically enrolled in the Certificate in Equity, Diversity, and Inclusion. This certificate consists of four courses. You are not required to take the courses in order, but it is recommended that you take OLCD-IDEA0004 after completing the first three courses in the certificate (OLCD-IDEA0001, 0002, 0003).
Please note: These courses fill up quickly, and registration is one course does not guarantee your spot in another. You must register for each course individually to reserve your spot.

For assistance or more information, please contact openlearning@dal.ca.
The Faculty of Open Learning and Career Development recommends an intermediate level of English language proficiency for the most effective learning and participation in our online and face-to-face courses. A list of minimum recommended scores on some common English tests can be found on our website. If you have questions about your English language proficiency and ability to succeed in this course, please contact openlearning@dal.ca.
Recommended For
Anyone interested in learning how to advance the agenda on diversity and inclusion within their respective organization
Testimonials
"Practicing EDI requires grit, sound knowledge, understanding, and the tenacity to constantly pursue knowledge. I found this course to be comprehensive with impactful, and culturally responsive materials that are applicable to real life scenarios in the workplace. Most interestingly were the human interactions that were encouraged through participatory learning and the overall learner-centred approach that provided learners with the opportunity to role play a diverse workforce and exposed them to differences and what it is really like working in a multi-cultural space.
In short, this course evoked ideas and difficult topis that nurtures the grit that is an asset to practicing EDI. Congratulations to the well-learned instructor. I recommend this course."
~ Kenisha Gordon, Diversity Specialist, Municipality of County of Kings
"This was one of the most informative courses I have taken. Although there is a lot of content, I have learned so much. Crystal is so very engaging as a facilitator. I think this course would be good for anyone - not just diverse teams. As a leader, the information that is in this course is invaluable. I would highly recommend this course to anyone that wants to learn more about the future of diverse teams."
~ Lisa Youssef, Province of Nova Scotia
Applies Towards the Following Certificates
Enrol Now - Select a section to enrol in
Required fields are indicated by .