Course Description
Start with any of the 5 core courses, offered twice a year.
This course is 12 learning hours including the 4.5 hours of live sessions. It recommended that learners spend approximately 4 hours per week on this course, including the 1.5 hour live session.
Different people learn in different ways and different material requires different instructional methodologies. As well, adult educators have preferences for particular instructional styles. As well, adult educators have preferences for particular instructional styles. In this course, we will look at combining these three factors. We will explore the practical application of experiential learning theory, and discuss the various roles an adult educator can play and the challenges these roles present. An important part of this course will be determining appropriate instructional methods and techniques.
Course Outline
Module 1: Learning Cycle/Learning Styles
Module 2: Role of the Trainer/Facilitator
Module 3: Instructional Methodologies
What You Will Learn
By the end of this course, you will be able to:
appreciate that different learning styles require different instructional methods
examine how learning styles fit with the experiential learning cycle
define the role and challenges of the trainer/facilitator
identify the strengths and limitations of a variety of instructional methods
select appropriate instructional methods with a program design
Microcredential
This course provides learners with the opportunity to earn a microcredential. A microcredential is evidence of a skill or competency that is employment related. Dalhousie microcredentials are developed in collaboration with employers, industries, and/or organizations that relate to the content.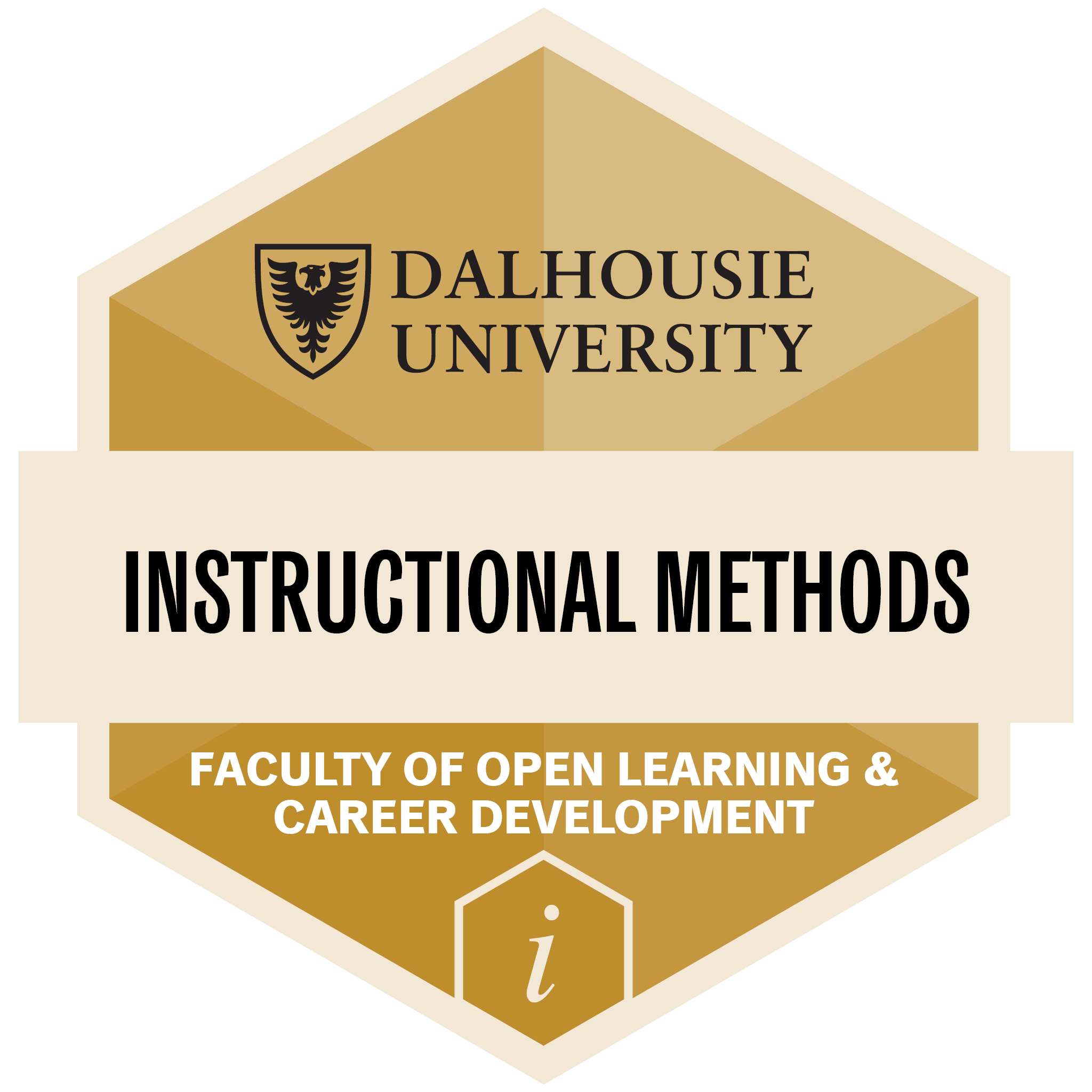 A microcredential can be displayed on social media pages, digital resumes, personal webpages, and in email signatures. To earn the microcredential in this course, learners will need to successfully complete a competency-based assessment.
To learn more about microcredentials and how they can enhance your learning portfolio, watch this 30-second
YouTube video
(video opens in a new window).
Notes
For assistance or more information, please contact openlearning@dal.ca.
The Faculty of Open Learning and Career Development recommends an intermediate level of English language proficiency for the most effective learning and participation in our online and face-to-face courses. A list of minimum recommended scores on some common English tests can be found on our website. If you have questions about your English language proficiency and ability to succeed in this course, please contact openlearning@dal.ca.
Recommended For
Those interested in working in the field of adult education (training, facilitation, coaching, mentoring, etc.)
Those interested in designing learning programs for adults.
Testimonials
"I feel my instincts have been on par with how I have chosen to approach teaching and interactions, which is very reassuring and reinforces my efforts. I can have a bigger more reinforced impact by fine-tuning these new skills, which has me excited. I love the concept of the learning cycle and how its laid out. Very great visually and theoretically. The ADDIE concept is a great and concise concept to ensure you have the essential elements for success."
Suzette Sinclair, RN Instructor: Futureworx, Bridgewater, NS
"Thank you for a wonderful course. I can honestly say while I have enjoyed all five in the Certificate in Adult Learning Fundamentals program, this is my favourite. The content is clear, applicable and immediately useful. I have really enjoyed the live sessions."
Melissa McKay, Veterinary Assistant Program Director: Maritime Business College
Applies Towards the Following Certificates
Enrol Now - Select a section to enrol in
Required fields are indicated by .