Course Description
This course is 20 learning hours inclusive of 4.5 hours of live sessions. It is recommended that learners spend approximately 6-7 hours (inclusive of the 1.5 hour live session) per week on course materials.

This course provides a framework for building a diversity and inclusion strategy from the start to finish. This is particularly important as changing demographics, talent shortages, equity disparities and a variety of economic challenges have underscored equity, diversity and inclusion as business and service imperatives.
Course Outline
Module 1: Context: History and Evolution of EDI in Canada
Module 2: Framework for Building EDI into Workplace Cultures
Module 3: From Theory to Practice: Implementation
What You Will Learn
The history of equity, diversity and inclusion in Canada
The difference between employment equity, diversity and inclusion
How to make the case: explaining why a diversity and inclusion program is essential to respond effectively to today's workplace demands
Identify pitfalls to successfully implement a Diversity and Inclusion program
Microcredential
This course provides learners with the opportunity to earn a microcredential. A microcredential is evidence of a skill or competency that is employment related. Dalhousie microcredentials are developed in collaboration with employers, industries, and/or organizations that relate to the content.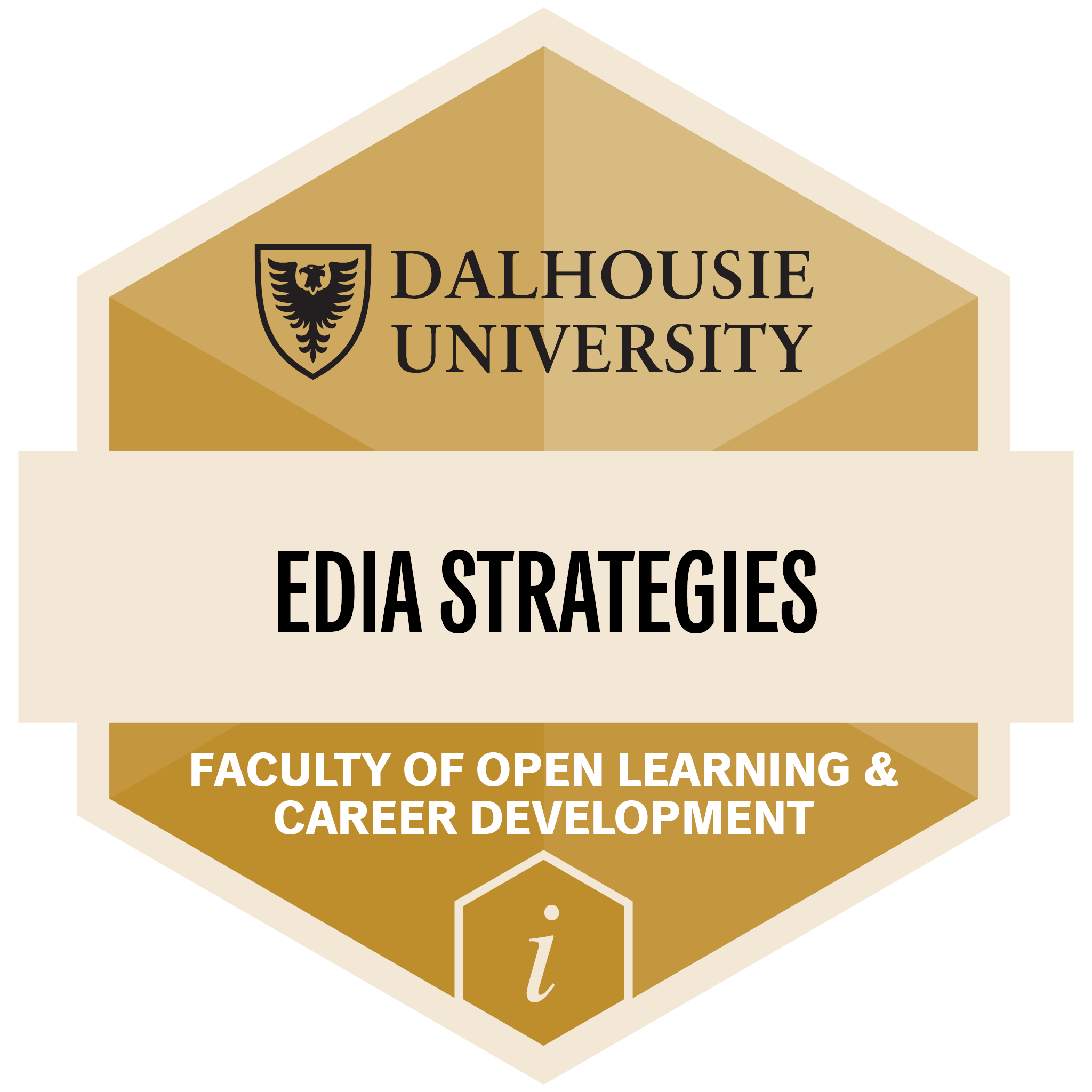 A microcredential can be displayed on social media pages, digital resumes, personal webpages, and in email signatures. To earn the microcredential in this course, learners will need to successfully complete a competency-based assessment.
To learn more about microcredentials and how they can enhance your learning portfolio, watch this 30-second YouTube video (video opens in a new window).
Notes
Please note: These courses fill up quickly, and registration in one course does not guarantee your spot in another. You must register for each course individually to reserve your spot.

For assistance or more information, please contact openlearning@dal.ca.
The Faculty of Open Learning and Career Development recommends an intermediate level of English language proficiency for the most effective learning and participation in our online and face-to-face courses. A list of minimum recommended scores on some common English tests can be found on our website. If you have questions about your English language proficiency and ability to succeed in this course, please contact openlearning@dal.ca.
Prerequisites
By enrolling in this course, you will be automatically enrolled in the Certificate in Equity, Diversity, and Inclusion.
Students must successfully complete one of the following courses before registering for Strategies for Implementing EDI Initiatives:
OLCD-IDEA0001 - Understanding EDI: An Organization Imperative
OLCD-IDEA0002 - Inclusive Communications in the Workplace
OLCD-IDEA0003 - Optimizing Diverse Team Performance
Testimonials
I would highly recommend this course to others, especially as a part of the Certificate in Equity, Diversity and Inclusion program. This course pulled together the learning's from the first three courses in this certificate program and allowed us the opportunity to consider our learning's and how they apply to our personal and professional lives.
It provided us the opportunity to self-reflect and take our learning's and move forward with them. This course has provided me with a great shift in my thinking, awareness and actions and I look forward to continuing my learning in the EDI space.
Genevieve MacIntryre, Manager of Student Recruitment, Communications and Marketing, Faculty of Arts & Social Sciences, Dalhousie University
I'm so pleased with this certificate program; it has ignited a lifelong journey to becoming a better person in my interactions with other people. I have more confidence in having the hard conversations intelligently and prepared for heard work.
Erin Nauss, Bank of Montreal
Applies Towards the Following Certificates
Enrol Now - Select a section to enrol in
Required fields are indicated by .